Plastic Extrusion Services
Services & Secondary Operations
For many customers extruded parts are only a component that is part of a larger assembly. While they may be familiar with the overall specifications and design process of their product, they may not have a detailed understanding of the qualities a plastic material exhibits in production or in actual use.

That's why ACE, Absolute Custom Extrusions, offers value-added services to help customers select the best possible material from both a production and performance point of view. Our years of experience are at your service with a wide range of polymers and plastic materials that can be engineered, configured, and designed to specifically match the needs of your assembly or product.
Custom golf tube with one end rolled and reinforced metal ring & notches applied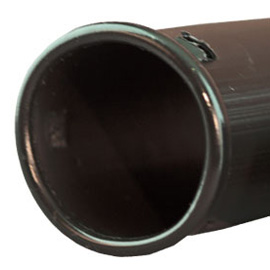 For many manufacturers, simplifying the supply chain has become a central requirement of procurement and just in time (JIT) order fulfillment. Absolute Custom Extrusions recognizes the benefits of providing many options for secondary operations. The list below is a sample of the services we provide. Our many years of experience and delivering high quality products has made us flexible, creative, and always ready to consider new operations or services that can help our customers simplify their SKU and supplier count. Let us be your plastic processing resource – we are here to help with all your extrusion needs.
Custom Color Matching
Absolute Custom Extrusions has an unequalled number of colors available for the production of plastic extrusions. The range of available colors runs the full spectrum of the color chart. Regardless of our many choices, our many years of experience has taught us that every customer has a vision that may be a slight deviation from the choices available.

ACE is fully prepared to meet your color needs with our staff of talented and skilled design engineers and experts that have the knowledge and know how to take your vision and make it a reality. Whether your extruded product uses a type of PVC, polyethylene, acrylonitrile butadiene styrene (ABS), or polypropylene, we have the ability to mix, blend, and fabricate any color, without exception. The key to our success in the highly competitive extrusion industry is meeting the demands of our customers with high quality craftsmanship and exceptional product performance.
Custom Packaging
The success of a product can ultimately be the result of how it appears when it is delivered. The first thing a customer notices is the appearance and design of the packaging. Absolute Custom Extrusions has a wide array of packaging designs that can be customized to fit your needs. If you have a unique, creative, or unusual design in mind, our talented engineers are more than willing to meet any challenge you may offer.

ACE has worked with every type of product to create packaging that exactly meets the product's requirements. Whether you are a food producer or auto parts distributor, ACE has the equipment and skill to take whatever you have to be packaged and create the perfect design that will enhance the value of your product and impress your customers.
Labeling and UPC Application
An essential part of product image is its logo, which serves as an emblem of your organization and a symbol of the quality you provide as well as the pride you take in your work. The easiest way to make your company recognizable is to have it emblazoned on your packaging. This particular feature has made ACE a leader in the extrusion industry. With every piece of material we produce, our goal is to make you, your staff, and company unique and easily identifiable.

The key factor to producing this type of excellent identification is printing that is clear, sharp, and so unmistakable that it can be easily read and understood at a glance. This is what has made ACE the company that producers and manufacturers depend on to ensure that their products stand out from their competitors.

Our dedication to precise and accurate printing is an essential part of the identification of UPC codes that have to be easily recognized and exceptionally scannable. The work that ACE staff put into ensuring that what is on our packaging is clearly visible is the reason that customers prefer our work over any other extrusion company.
Rolling
A unique process, for which ACE is well known, is the rolling of plastic to form tubes for golf club storage. Using our high quality, exceptionally resilient materials, our staff of experts takes tubes and rolls them to the exact dimensions required to fit in a golf club bag.

The design of these durable and sturdy tubes enables them to withstand all the possible abuse an accomplished golfer can put them through. The thickness and strength of the plastic material offers protection against dents, punctures, and any form of impact or abrasion. The quality and performance of our rolled tubes has made ACE the leader in golf club tube manufacturing.

Absolute Custom Extrusions is a one stop manufacturing operation that has spent years, investment, and expertise in perfecting our equipment and processes such that our customers depend on our outstanding serve and quality products. Each order is treated as the only order we have with JIT that exactly fits your timeline.
Services
Blanket Orders
Custom Color Matching
Custom Packaging
Design
Just In Time Shipping
Material Selection
R&D Projects
Tooling & Fabrication Tooling
Inline and Secondary Operations
Cut to Length, Coiled or Spooled
Deburring
Drilling
Heat Sealing
Labeling & UPC Application
Notching
Printing
Prototypes
Punching
Rolling
Slitting
Stamping
Two-way Adhesive Backing
Other Secondary Operations Available