Plastic Golf Tubes
Plastic Golf Club Tubes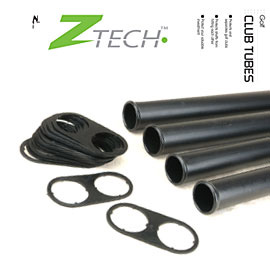 ACE does not make golf club holder inserts shown in this image, however have partners that can. Contact us to inquire further.


Golf Club Tubes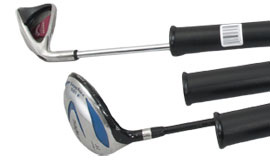 Variety of Sporting Goods Tubes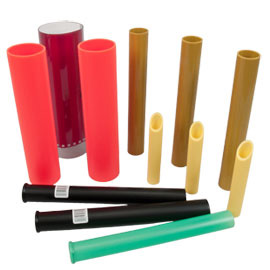 Keeping golf clubs in prime condition is an important concern for the avid golfer. Clubs that are thrown into an open bag without protection can get dinged, scratched, and damaged. The perfect solution to the problem is plastic golf club tubes from Absolute Custom Extrusions, a leader in the extrusion industry. ACE uses high quality polyethylene and recycled polyethylene material to produce golf club tubes that fit easily around the most vulnerable part of a golf club, the shaft.
Regular & Oversized Golf Tubes
ACE, Absolute Custom Extrusions, Inc. has produced extruded plastic golf tubes for more than 35 years and is considered a pioneer in the industry. As one of the first companies to design and manufacture plastic tubes for golf clubs, ACE supplies major golf equipment manufacturers and sporting goods retailers with oversized and custom golf tubes to separate golf clubs in golf bags, protect clubs during shipping and display golf clubs at retail.
As one of our specialties, ACE golf tubes are economical and have numerous other uses, from protective packaging to other sporting goods applications.
Made from durable, lightweight High Density Polyethylene, ACE golf tubes are typically rolled on one end and reinforced with a metal ring. Options include:
Multiple sizes available to fit regular and oversized golf clubs or other custom sizes
Private label packaging
UPC label application
Recycled materials can be used as specifications permit
Recycled packaging available
Standard Golf Club Tube Sizes Regular Sized Golf Tubes:

1.230" OD x 1.180" ID x 0.25" Wall x 34" Long
One End Rolled and Reinforced with a Metal Ring
Color: Black


Oversized Golf Tubes Dimensions:

1.330" OD x 1.280" ID x .025" Wall x 34" Long
One End Rolled with Reinforced Ring.
Color: Black

Custom Golf Tubes Available

Custom Lengths
Tubes can be Rolled and Reinforced with a Metal Ring
Available colors include: Black, White, Red, Green, Blue, Yellow, Orange & Purple


Custom Packaging

Private Label Packaging
UPC Label Application
Please contact your ACE sales representative at 414-332-8133 or email to discuss products and services. Or fill out the Request For Quote form below.

What are Golf Club Tubes?
The purpose and function of golf tubes is to protect the main tool for the successful golfer, their clubs. In order to become an accomplished golfer, you must have dependable tools that perform well regardless of the situation. The only way that a tool can be ensured to have peak performance is if it receives proper care. That is the function and purpose of ACEs' golf club tubes.

Our golf club tubes are specifically designed to match the length and design of every club in a golf bag. They are made of reliable sturdy material that is able to withstand the demands of travel and constant use. Aside from keeping clubs from damage, and keep golf clubs secured in the same place until they are needed.

The smoothed edge of the top of the tube helps to avoid abrasion, or surface damage, to the head. The diameter of each tube is sufficient to keep clubs separated and avoid them from colliding.

As any golfer will tell you, the shaft of a club is the key to its performance. Protecting that vital part is essential to keeping your tools in working order. In the normal golf bag, clubs tend to bunch together in one portion of the bag. This means that all of the shafts are crammed together, which can damage or bend them.

The main feature of Absolute Custom Extrusions' golf club tubes is to surround the shaft with solid material so that it cannot be bent, bumped, or deformed by other clubs or exterior forces. Placing a golf club in a sturdy plastic tube offers the assurance that it will be safe on the course and in the closet.
Golf Club Tube Benefits
The main attraction of golf is the skill that it requires to set the shot, measure the angles, and determine the right tool. A dedicated golfer has all of the tools needed to approach any shot. When they reach into their well-organized bag, they choose the club that will give them the best advantage. Golf club tubes provide the proper organization so that the player has every club perfectly positioned and ready for use.

One of the things that tends to be overlooked with golf clubs is the amount of time they spend in the trunk of a car, an airplane cargo hole, or setting in the garage or closet. In every instance, there is the potential for clubs to shift and move, which can lead to damage. These many harmful conditions can easily be avoided with the use of plastic golf club tubes that fit easily into the bag and offer a wall of protection.
Golf Club Tube Materials
The key to the quality of Absolute Custom Extrusions' golf club tubes is the type of material used to manufacture them. Our golf club tubes are made of high-density polyethylene, which is a lightweight and highly durable plastic. To keep the tubes a sufficient distance apart and avoid club heads from striking one another, the tubes are secured by specially designed metal rings that snap over the tops of the tubes.

To ensure the perfect fit, our golf club tubes are made in standard and large sizes to fit your specific needs and can be made in a variety of custom colors so that you can better organize your bag.
Other Uses
Golf Displays
Quiver Holders
Packaging Tubes
Fishing Rod Holders
Protective Packaging
Protecting your products is a big concern for us, that's why ACE provides customers with packaging tubes to safeguard your purchases during shipping or storage. Our packaging solutions are as economical as they are protective, and available in several colors with private or UPC label options. ACE protective packaging is also recyclable.
Shaping the World with Plastic Extrusions for Over 35 Years