Flag Pole Accessories and Other Sporting Goods
Flag Pole Accessories
ACE, Absolute Custom Extrusions, Inc. can produce Flag Pole Accessories needed for Flag Pole Assembly and Do it yourself Flag Pole Kits to include the following:
• Flag Poles
• Flag Pole Sleeves
• Ground Sleeves
• Anti-Furling Device Components
• Spacers and Washers

Flag Pole Sleeves are plastic sleeves used for attaching flags to flag poles.

Ground Sleeves are Plastic Sleeves used to secure an outdoor Flag Pole. The Outside of the Ground Sleeve is buried with the Inside of the tube open. The Flag Pole is inserted into the sleeve opening to keep the Flag Pole securely in the ground.

Anti-Furling Sleeves are plastic sleeves used to attach a Flag to a Flag Pole. The sleeve is slipped over the Flag Pole to prevent the Flag from Tangling (Curling) Around the Pole.
Other Sporting Goods
Banner Tubes
Banner Tubes hold Banners used in Parades and sporting events they are custom made and can fit any style of Banner.
Beaded Jump Ropes
A beaded jump rope is ideal for extreme fitness training & cardio workouts. The beaded design adds stability to the Rope when jumping and can be produced in ACE Stock Colors or Custom Colors to include professional sports team colors.

Plastic Beaded Jump Rope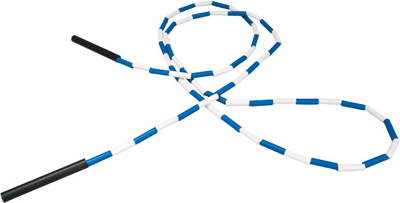 Please see our Golf Tubes Page for information about regular and oversized sizes, colors, packaging and custom tubes.

Custom Solutions Are Also an Option. We are always open to new ideas and we offer R&D Services to fit your needs.

To get more information on our flag pole accessories & other sporting goods products, please contact us or fill out a Request for Quote form.
Shaping the World with Plastic Extrusions for Over 35 Years