Custom Plastic Profiles
Knife Protector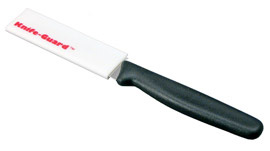 Custom Profile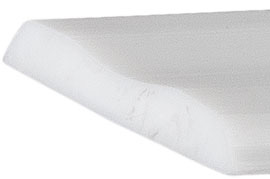 Custom orders are an ACE, Absolute Custom Extrusions specialty: we've been providing solutions for over 35 years. Our engineering staff will work with you to get the custom profile that will meet your specifications.
Custom Profiles


We have flexible production systems that easily accommodate small, medium, or large runs.
If you are looking for ways to save, we also offer standard plastic profiles and recycled materials.
Extruded plastic profiles typically consist of extrusions that have distinctive cross-sectional shapes. These types of extrusions can be long channels or small corner components.
Available Profile Sizes
Profiles 1/8" to 6" Wide
Wall Thickness from .030" to .250"
Cut to Length
Materials Available for Extruded Plastic Profiles
Heat, pressure, chemical resistance, durability, and dimensional stability are some of the characteristics we base our material selections on.
Our current list of materials contains the following:
Polystyrene (HIPS)
ABS (Acrylonitrile Butadiene Styrene)
Polypropylene (PP)
Low or Linear Low Density Polyethylene (LDPE, LLDPE)
PVC Rigid or Flexible (Polyvinyl Chloride)
CPVC (Chlorinated Polyvinyl Chloride)
Engineered Thermoplastics
Other materials can be used, but are on a per request basis.
Recycled materials can be used when requirements permit.
Call us now to see what other suitable materials may be available to meet your application's requirement.
Standard Colors we Offer
Color availability is dependent on material selection
Red, Green, Yellow, Blue, Orange, Grey, White and Black
Custom color matching available.
Industries Served
Agriculture
Automotive
Building & Construction
Display & P-O-P
Defense
Electrical
Electronics
Energy & Renewable Energy
General Industry - Industrial
Housewares, Appliances & Home Furnishings
Lawn & Garden
Machinery & Commercial Tool
Marine
Medical, Dental, Veterinarian, Laboratory & Pharmaceutical
Modular & Storage
Plumbing, Heating & Cooling
Packaging
Research & Development
Sporting Goods, Hobbies, Crafts, Games & Toys
Transportation
Water Treatment & Wastewater Management
Wholesale Suppliers & Distribution
Inline & Secondary Operations
Cut to Length, Coiled or Spooled
Deburring
Drilling
Heat Sealing
Labeling & UPC Application
Notching
Printing
Prototypes
Punching
Rolling
Slitting
Stamping
Two-way Adhesive Backing
Other Secondary Operations Available
Design, engineering, prototyping and material selection are the services that make Absolute Custom Extrusions a better business partner. Please click here for more information on our services.
Other operations are available upon request. Let us be your plastic manufacturing resource.
Please contact your ACE sales representative at 414-332-8133 or email to discuss products and services. Or fill out the Request For Quote form below.
Shaping the World with Plastic Extrusions for Over 35 Years