Custom Plastic Pipe & Tubing
Thin-walled Tubing




Packaging Tubes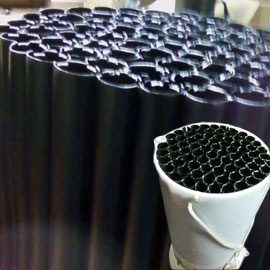 Customized tubing, engineered using the finest and highest quality materials, can transform an average job into a made to customer specific exceptional project. Absolute Custom Extrusions has the know-how, tools, and expertise to produce just the tubing your job requires down to the most minute details.

ACE uses carefully selected plastics made from resilient materials with all of the features that has made Absolute Custom Extrusions the first choice of companies in Europe, Mexico, Canada, and the United States. Our staff of experienced engineers uses highly technologically advanced techniques to design and fabricate tubing with wall thicknesses of 0.005" to 0.250" and outside diameters of 1/32" up to 4".

In our over 35 years of plastic tubing industry experience, Absolute Custom Extrusions has developed the reputation for producing products that will last. When the ACE name is on a product, customers know they are getting the best tubing on the market.


Design Consultation
ACE, Absolute Custom Extrusions is a full capability tubing extrusion company. The materials we use for custom tubing are selected based on heat, pressure, or chemical resistance, durability, dimensional stability, cost and other characteristics, and are based on customer requirements.
How Absolute Custom Extrusions Tubing Can Benefit You
Absolute Custom Extrusions, custom plastic tubes can be manufactured to fit your needs in a size cut for its application. One of the benefits of custom plastic tubing is it can be made in either rigid or flexible formats depending the requirements of the installation. The nature of plastic makes it possible to adjust and adapt it for any conditions. If your project demands a specific or unique design, our team can take your requirements and produce tubing designed exactly for you.
What are the best applications for plastic tubing?
Plastic tubing is the best choice for jobs that require the handling of corrosive materials that could damaging or harmful. The chemical composition of plastic makes it resistant to chemical compounds and volatile substances.

We produce the most durable and lasting plastic tubing on the market with wall thickness to fit any application. The tensile strength of plastic makes it capable of withstanding any form of stressful conditions.

The best feature of plastic is its versatility. It can be shaped and fitted to conditions that may be challenging to steel or stainless steel. Since it is a non-conductor, it is the perfect solution for protecting and encasing wiring.

Plastic tubing is environmentally friendly and can be used over and over to produce new and useful products. We take pride in repurposing used plastic tubing to make it useful and productive. Nothing that we produce ends up in a landfill or trash dump. We are as dedicated to preserving the planet and maintaining the environment as you are.
Materials Available for Custom Pipe & Tubing
When Absolute Custom Extrusions takes your order, we match your demands to the eight different types of fabricating materials we use. From PVC to polyurethane, we have the exact production material to produce a length of tubing that will fit your application.

The materials we use can be of commercial or engineering grade and can be specified to meet a wide variety of needs. As an economical alternative, recycled materials can be used when requirements permit.
Polystyrene (HIPS)
ABS (Acrylonitrile Butadiene Styrene)
Polypropylene (PP)
High, Low or Linear Low Density Polyethylene (HDPE, LDPE, LLDPE)
PVC Rigid or Flexible (Polyvinyl Chloride)
CPVC (Chlorinated Polyvinyl Chloride)
Polyurethane (PU)
Engineered Thermoplastics
Other Materials are Available if Required
Recycled Materials Based on Request
Types of Custom Plastic Tubing
Flexible Tubing
There are situations where rigid tubing or piping is not practical or desirable for a variety of reasons. Since plastic tubing is long lasting and strong, it can be produced in a flexible form for situations where it can be bent around a corner to provide a water supply or a support for pools or gardens. It is perfect for plumbing installations since it simplifies the process.
Rigid Tubing
Rigid plastic tubing is normally used as piping, since it is very sturdy, durable, and long lasting, it provides safety and security for applications that can run through a wall or provide drainage. Rigid plastic tubing provides an economical and efficient alternative to metal piping since it has the same resilience and strength without the cost.
The Sizes of Plastic Tubing
Though Absolute Custom Extrusions produces a variety of lengths, diameters, and wall thicknesses, plastic gives us the opportunity to custom design and produce tubing to fit any job or set of requirements. What has made us so successful is our flexibility and customer service. Your demands and specifications are what decides our manufacturing process.
Plastic Tubing Sizes
Outside Diameter 1/32" to 4"
Wall Thickness From .005" to .250"
Cut to Length
Coiled or Spooled
We will cut and fit your tubing to any lengths to ensure that to exactly fit any requirements. This feature is controlled at the end of the extrusion process after going through a cooling tank. As it cools, it is cut to the exact dimensions the job requires, with the highest precision and accuracy.

You can choose the diameter you need. Just give us the measurements, and we will make tubing to fit them. Again, this is the advantage of the flexibility and adaptability of plastic and the extrusion process.
Standard Colors We Offer
Some of our standard colors


Color availability is dependent on material selection
Red, Green, Yellow, Blue, Orange, Grey, White and Black
Custom color matching available.
For water conditioning applications, we offer materials that can be used for these applications:
Hot or Cold Water Tubes
Distributor Tubes
Float Rods
All Materials Used for Water Conditioning Applications are NSF & FDA Certified
Custom Piping and Tubing
In some ways, you can use the terms tubing and piping interchangeably with certain important distinctions. The process for making tubing and piping is the same. A polymer material is melted and forced or pushed through an extrusion die.

The main difference between tubing and piping is the thickness of their walls where piping is made with thicker walls to be more durable while tubing is still rigid but does not have the same thicknesses.

Most plastic piping is designed for conditions that include extreme stress and require endurance. Though tubing can withstand the same conditions, it is designed for less pressure conditions.

There are forms of piping that are similar to tubing but may have a more complex structure than ordinary tubing and be produced for special circumstances. It is important to know the difference and consult with one of our engineers to determine the one that is best for you.

The materials we use can be of commercial or engineering grade and can be specified to meet a wide variety of needs. As an economical alternative, recycled materials can be used when requirements permit.
Plastic Pipe & Tubing Services at ACE
Design, engineering, prototyping and material selection are the services that make Absolute Custom Extrusions a better business partner. Please click here for more information on our services.
Other Operations are Available Upon Request. Let us be Your Plastic Manufacturing Resource.
Please contact your ACE sales representative at 414-332-8133 or email to discuss products and services. Or fill out the Request For Quote form below.



Shaping the World with Plastic Extrusions for Over 35 Years