Plastic Golf Tubes & Sporting Goods
Golf Club Tubes and Inserts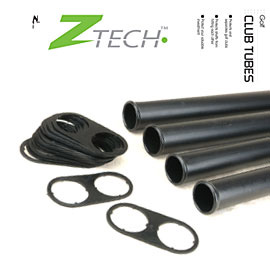 Golf Club Tubes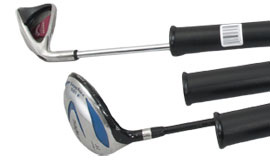 Variety of Sporting Goods Tubes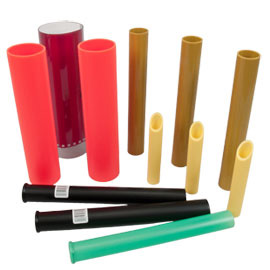 Our golf club tubes are another one of our specialties and a great product for any golf bag that keeps golf clubs separated and easily handled. Our tubes are rolled on one end and reinforced with a metal ring.
To be a successful golfer, you need to possess many exceptional attributes: an in-depth understanding of the game, self-confidence in your abilities, and the commitment to practice as much as possible. You're also going to need the right tools, and for golfers, the most important tool is the golf club. Successful golfers will acquire a collection of clubs to handle different situations; the proper upkeep of your clubs is vital for your game—and just as vital for your budget. The professionals of Absolute Custom Extrusions (ACE) have been leading the sporting goods industry for over 25 years with its wide selection of golf accessories, which include various sized golf tubes, flag pole accessories, and protective packaging solutions.
Golf Tubes
ACE extruded plastic golf tubes are cost-effective products designed to safeguard your clubs. Our golf tubes are composed of High Density Polyethylene, a lightweight and extremely durable plastic, and are secured with a metal ring. Golf tubes are used to separate clubs inside your bag, protecting them from scratches, bends, and other types of damage. If your club is damaged in even the smallest way, it can be highly detrimental to your clubs' lifespan, and to your swing—you'll find more difficulty making your mark and following through with your swing if your clubs suffer any damage whatsoever. We are among the first companies ever to produce plastic golf tubes, and our experience allows us to provide customers with several options; our golf tubes are available in standard and larger sizes to accommodate any type of club, and you can choose from a plethora of colors that includes black, red, yellow, and many others.
Flag Pole Accessories
ACE's selection of flag pole accessories includes poles, pole sleeves, ground sleeves, and anti-furling device components. We have everything you need to assemble your unique, fully customizable flag pole with our DIY kits; we also provide hardware such as spacers and washers.
Protective Packaging is Available
Protecting your products is a big concern for us, that's why ACE provides customers with packaging tubes to safeguard your purchases during shipping or storage. Our packaging solutions are as economical as they are protective, and available in several colors with private or UPC label options. ACE protective packaging is also recyclable and reusable. To learn more about our line of sporting goods products and accessories, be sure to contact us any time.
ACE, Absolute Custom Extrusion's golf tubes have been used for a lot of other applications that are completely unrelated to golf.
Standard Golf Club Tube Sizes
Regular Sized Golf Tubes:
1.230" OD x 1.180" ID x 0.25" Wall x 34" Long
One End Rolled and Reinforced with a Metal Ring
Oversized Golf Tubes:
1.330" OD x 1.280" ID x 0.25" Wall x 34" Long
One End Rolled and Reinforced with a Metal Ring
Custom Golf Tubes Available
Custom Lengths
Tubes can be Rolled and Reinforced with a Metal Ring
Other Sporting Goods Products
Tubing:
Tube Outside Diameter from 1/32" to 4"
Wall Thickness from .006" to .250"
Cut to Length, Coiled or Spooled
Profiles:
1/8" to 6" Wide
Wall Thickness from .030" to .250"
Cut to Length
Custom Packaging
Private Label Packaging
UPC Label Application
Other Industries Served
Display & P-O-P
Lawn & Garden
Packaging
Hobbies, Crafts, Games & Toys
Applications
Bag Slings
Bicycle Pedal Pads
Fishing Rod Carriers
Flag Poles
Golf Club Tubes
Golf Displays
Ground Sleeves
Jump Ropes
Protective Packaging Tubes
Quiver Tubes
Washers
Secondary Operations Available for These Products
Cut to Length, Coiled or Spooled
Deburring
Drilling
Heat Sealing
Labeling & UPC Application
Notching
Printing
Prototypes
Punching
Rolling
Slitting
Stamping
Two-way Adhesive Backing
Other Secondary Operations Available
Design, engineering, prototyping and material selection are the services that make Absolute Custom Extrusions a better business partner. Please click here for more information on our services.
Other operations are available upon request. Let us be your plastic manufacturing resource.
Please contact your ACE sales representative at 414-332-8133 or email to discuss products and services. Or fill out the Request For Quote form below.
Shaping the World with Plastic Extrusions for Over 25 Years